ADXL345 - Accelerometer
ADXL345 is a small, thin, low power, 3-axis accelerometer with high resolution (13-bit) measurement at up to ±16g.
Documentation
In Chinese
In English
Sensor Image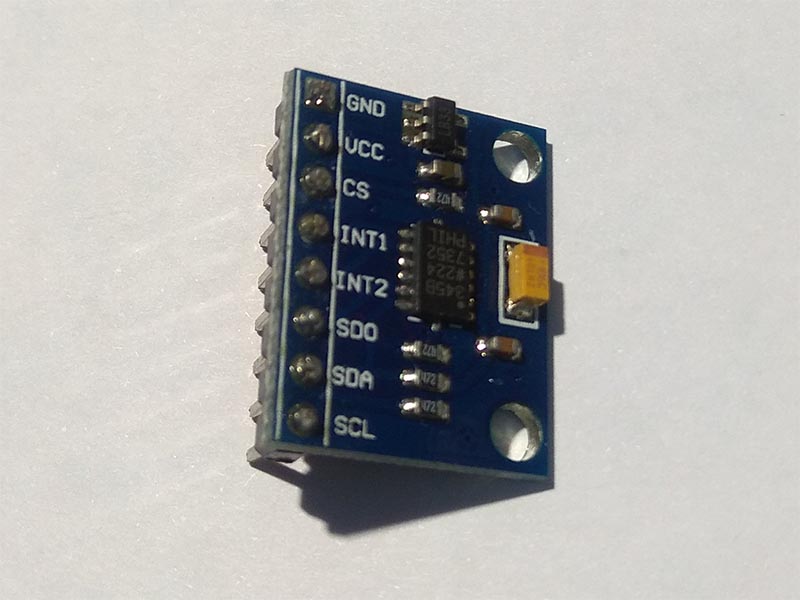 Usage
Important: make sure you properly setup the SPI pins especially for ESP32 before creating the SpiDevice, make sure you install the nanoFramework.Hardware.ESP32 nuget:
//////////////////////////////////////////////////////////////////////
// when connecting to an ESP32 device, need to configure the SPI GPIOs
// used for the bus
Configuration.SetPinFunction(21, DeviceFunction.SPI1_MOSI);
Configuration.SetPinFunction(22, DeviceFunction.SPI1_MISO);
Configuration.SetPinFunction(23, DeviceFunction.SPI1_CLOCK);
// Make sure as well you are using the right chip select

For other devices like STM32, please make sure you're using the preset pins for the SPI bus you want to use. The chip select can as well be pre setup.
SpiConnectionSettings settings = new SpiConnectionSettings(1, 42)
{
    ClockFrequency = Adxl345.SpiClockFrequency,
    Mode = Adxl345.SpiMode
};

var device = SpiDevice.Create(settings);

// set gravity measurement range ±4G
using (Adxl345 sensor = new Adxl345(device, GravityRange.Range04))
{
    // read acceleration
    Vector3 data = sensor.Acceleration;

    //use sensor
}

Example
Hardware Required
ADXL345
Male/Female Jumper Wires
Circuit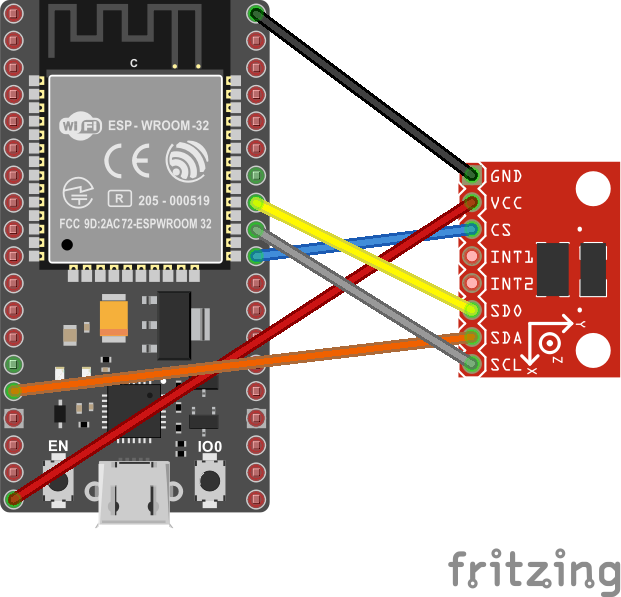 VCC - 3.3 V
GND - GND
CS - CS
SDO - SPI1 MISO
SDA - SPI1 MOSI
SCL - SPI1 SCLK
Code
SpiConnectionSettings settings = new SpiConnectionSettings(1, 42)
{
    ClockFrequency = Adxl345.SpiClockFrequency,
    Mode = Adxl345.SpiMode
};
var device = SpiDevice.Create(settings);

// Set gravity measurement range ±4G
using (Adxl345 sensor = new Adxl345(device, GravityRange.Range04))
{
    // loop
    while (true)
    {
        // read data
        Vector3 data = sensor.Acceleration;

        Debug.WriteLine($"X: {data.X.ToString("0.00")} g");
        Debug.WriteLine($"Y: {data.Y.ToString("0.00")} g");
        Debug.WriteLine($"Z: {data.Z.ToString("0.00")} g");
        Debug.WriteLine();

        // wait for 500ms
        Thread.Sleep(500);
    }
}

Result