nRF24L01 - Single Chip 2.4 GHz Transceiver
The nRF24L01 is a single chip radio transceiver for the world wide 2.4 - 2.5 GHz ISM band.
Documentation
The bindging datasheet can be found here
Board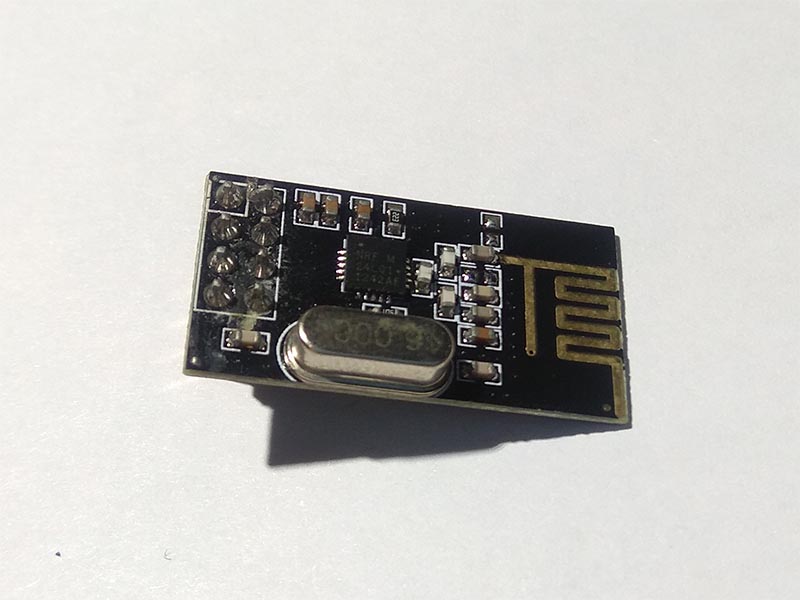 Note: the following diagram uses a Raspberry Pi. This can be achieved with any MCU having 2 available SPI.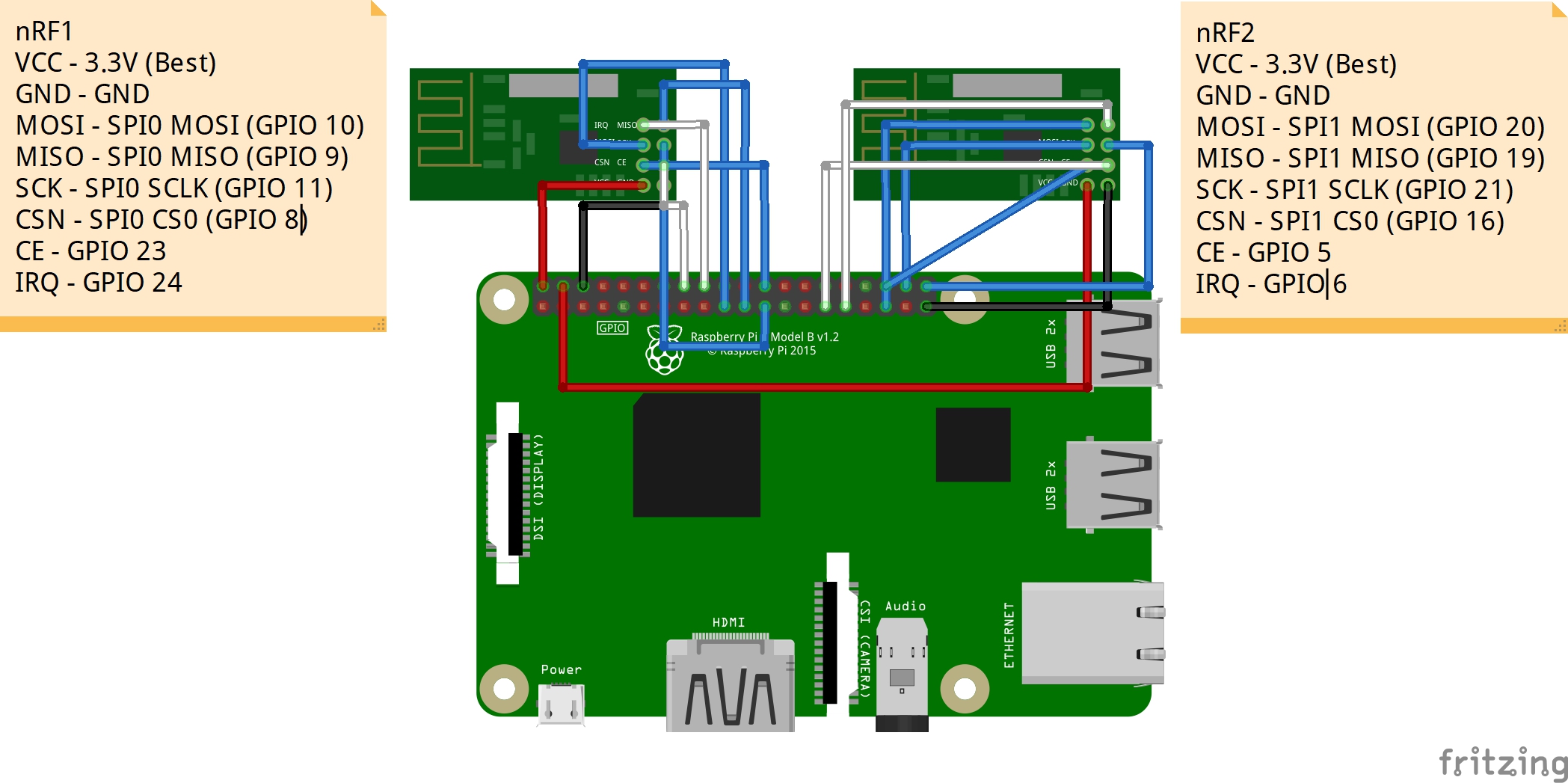 Usage
Hardware Required
nRF24L01 × 2
Male/Female Jumper Wires
Connection for nRF1
VCC - 3.3V (Best)
GND - GND
MOSI - SPI0 MOSI (GPIO 10)
MISO - SPI0 MISO (GPIO 9)
SCK - SPI0 SCLK (GPIO 11)
CSN - SPI0 CS0 (GPIO 8)
CE - GPIO 23
IRQ - GPIO 24
Connection for nRF2
VCC - 3.3V (Best)
GND - GND
MOSI - SPI1 MOSI (GPIO 20)
MISO - SPI1 MISO (GPIO 19)
SCK - SPI1 SCLK (GPIO 21)
CSN - SPI1 CS0 (GPIO 16)
CE - GPIO 5
IRQ - GPIO 6
Code
Important: make sure you properly setup the SPI pins especially for ESP32 before creating the SpiDevice, make sure you install the nanoFramework.Hardware.ESP32 nuget:
//////////////////////////////////////////////////////////////////////
// when connecting to an ESP32 device, need to configure the SPI GPIOs
// used for the bus
Configuration.SetPinFunction(21, DeviceFunction.SPI1_MOSI);
Configuration.SetPinFunction(22, DeviceFunction.SPI1_MISO);
Configuration.SetPinFunction(23, DeviceFunction.SPI1_CLOCK);
// Make sure as well you are using the right chip select

For other devices like STM32, please make sure you're using the preset pins for the SPI bus you want to use. The chip select can as well be pre setup.

SpiConnectionSettings senderSettings = new SpiConnectionSettings(1, 42)
{
    ClockFrequency = Nrf24l01.SpiClockFrequency,
    Mode = Nrf24l01.SpiMode
};

SpiConnectionSettings receiverSettings = new SpiConnectionSettings(2, 44)
{
    ClockFrequency = Nrf24l01.SpiClockFrequency,
    Mode = Nrf24l01.SpiMode
};
var senderDevice = SpiDevice.Create(senderSettings);
var receiverDevice = SpiDevice.Create(receiverSettings);

// SPI Device, CE Pin, IRQ Pin, Receive Packet Size
using (Nrf24l01 sender = new Nrf24l01(senderDevice, 23, 24, 20))
{
    using (Nrf24l01 receiver = new Nrf24l01(receiverDevice, 5, 6, 20))
    {
        // Set sender send address, receiver pipe0 address (Optional)
        byte[] receiverAddress = Encoding.UTF8.GetBytes("NRF24");
        sender.Address = receiverAddress;
        receiver.Pipe0.Address = receiverAddress;

        // Binding DataReceived event
        receiver.DataReceived += Receiver_ReceivedData;

        // Loop
        while (true)
        {
            sender.Send(Encoding.UTF8.GetBytes("Hello! .NET Core IoT"));

            Thread.Sleep(2000);
        }
    }
}

private static void Receiver_ReceivedData(object sender, DataReceivedEventArgs e)
{
    var raw = e.Data;
    var msg = Encoding.UTF8.GetString(raw);

    Debug.Write("Received Raw Data: ");
    foreach (var item in raw)
    {
        Debug.Write($"{item} ");
    }
    Debug.WriteLine();

    Debug.WriteLine($"Message: {msg}");
    Debug.WriteLine();
}

Result